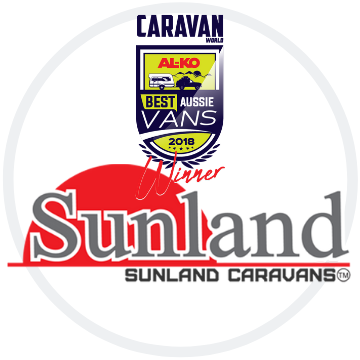 SUNLAND CARAVANS
Quality, It's Simply A Matter Of Pride
Have You Heard About The Sunland 'Mini'?
Home Of The Best Off Road Caravan & Chassis Warranty!

You Get 5 Years On The Caravan - 20 Years On The Chassis...
Off Road Caravans built by Sunland Caravans are made to last. Where ever you want to go, Sunland will get you there! Our 5 Year Manufacturers Warranty, combined with the incredible 20 Year Chassis Warranty really has you covered. That's how confident we are in the quality of our off road caravan manufacturing!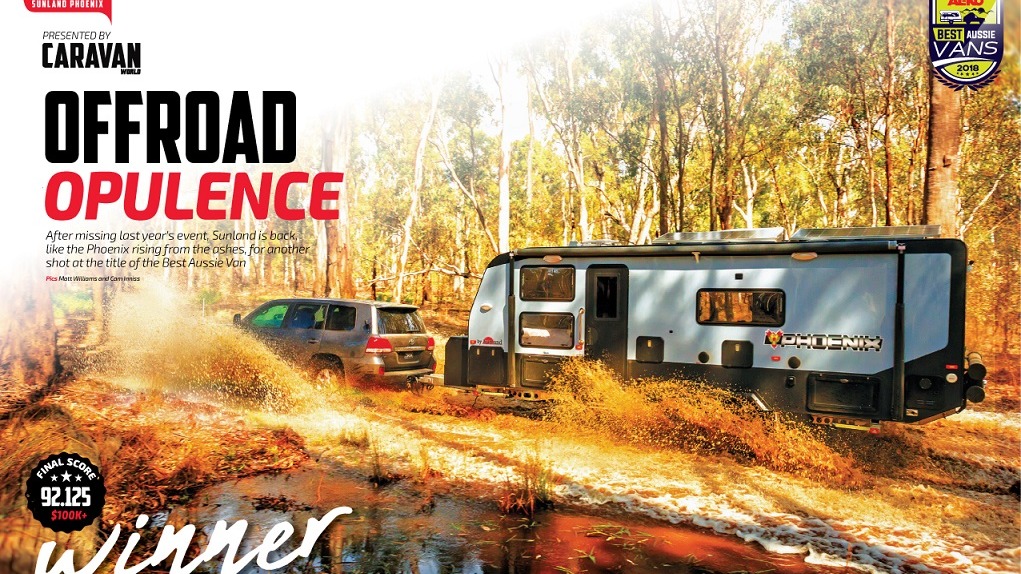 Sunland have been building Off Road Caravans here in Caboolture for over 15 years. Our Caravans have undergone more than a million kilometers of off road testing, to every corner of Australia. So we can confidently promise you the lightest, strongest, most comfortable and well designed off road caravan on the market today.
Send Us Your Questions Today!
We will get back you promptly.
SUNLAND PHOENIX WINNER

'BEST AUSSIE VANS'
2018
As Judged By Experts From


CARAVAN WORLD!


Watch The Video &
See Why We Won!
CLICK FOR FREE BUYERS GUIDE!
OUR OFF ROAD CARAVANS - Including The Phoenix, formerly known as the Patriot: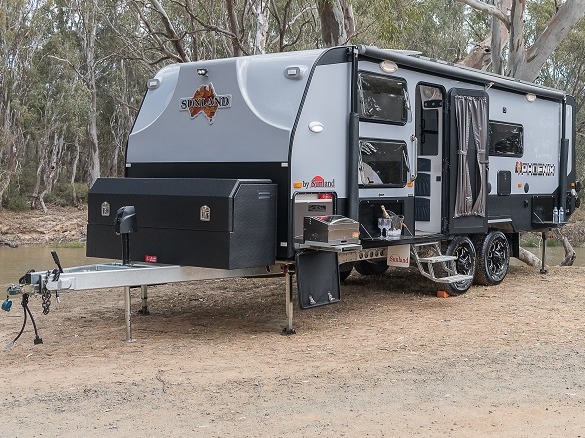 Sunland PHOENIX MY19 Off Road Caravan
Our flagship model, formerly known as the 'Patriot'. Winner of the 2018 AL-KO 'Best Aussie Vans'. The PHOENIX comes in a variety of lengths and configurations.
Our 'most awarded off road caravan' the Phoenix is the first caravan built at Sunland, still being manufactured at the same factory today. This incredible caravan is designed for those who wish to travel around this beautiful, sun-burned country in style and comfort – yet tough enough to venture heavy-duty off-road.
Want To Know All About The PHOENIX?

Click The Orange Button:
BLUE HEELER MY19 Off Road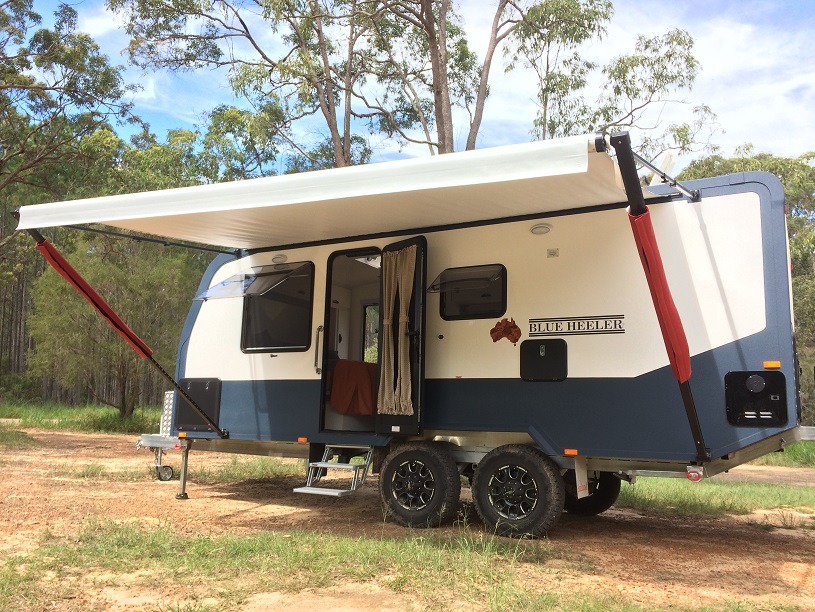 Sunland BLUE HEELER MY19 Off Road Caravan
The tough, compact off roader that goes with you anywhere. The name 'Blue Heeler' originated from the Blue Heeler Hotel in Kynuna, Central Queensland. The caravan was christened in 2005 when it trekked over 1,500kms to visit the iconic little timber hotel and pub. It has since gained a well-deserved reputation as a real tough off-roader.
Want To Know All About The BLUE HEELER? Click The Orange Button: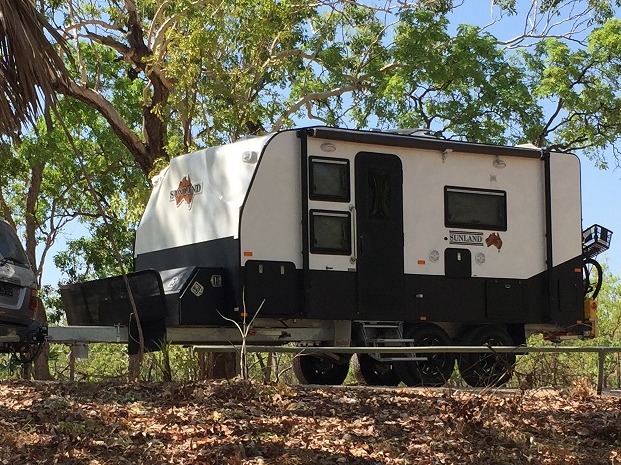 Sunland LONGREACH MY19 Off Road Family Van
The original Longreach was the first Sunland Caravan ever built. Years later and thousands of kilometres, on some of the harshest terrain the Australian outback has to offer, the Longreach has proven it will withstand the test of time. Perfect for families looking to adventure together. Small, light and strong, yet luxurious and superbly designed inside, to offer all the amenities you might need. * Family of 5? Triple Bunk Option Also Available!
Want To Know All About The LONGREACH Family? Click The Orange Button:

​
Listen To What Our Customers Say…




Because
It's Our Customers That Matter Most.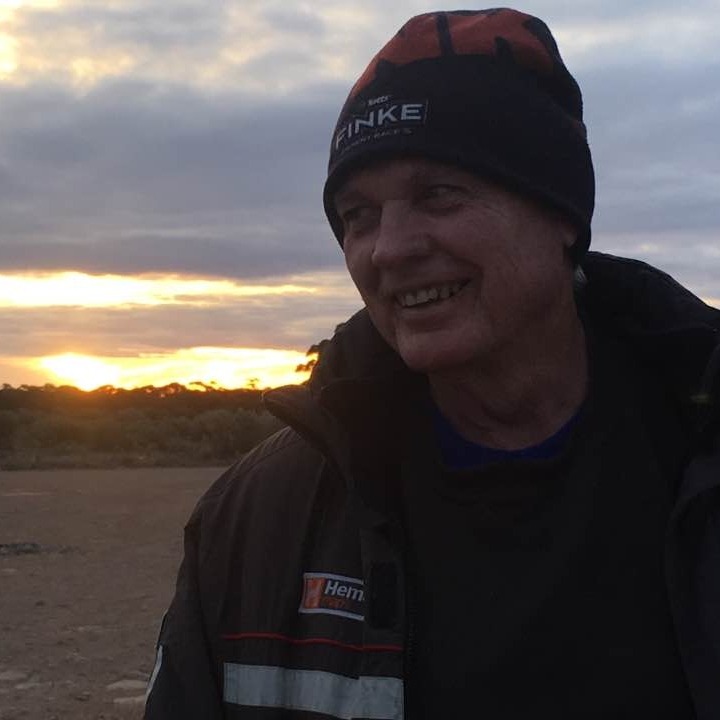 Wallace G.
Love our Van, it truly is off road, we tested it on the Gibb & Oodnadatta as well as tracks less travelled. Great service and Roy is always thinking of new innovations which the team happily retrofit. We encounter van envy regularly. 'Why would you buy any other van?'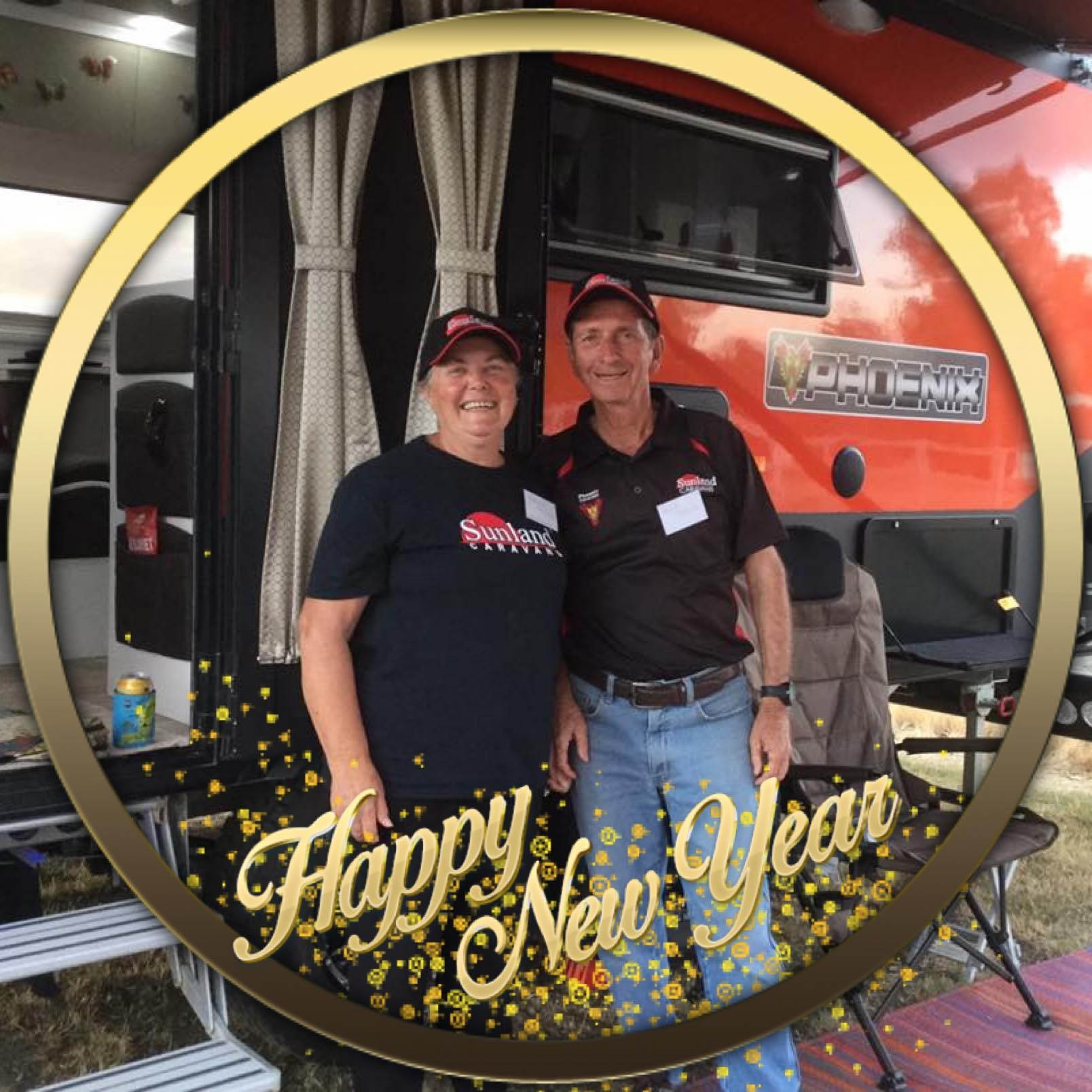 Narelle P.
We are the very proud owners of our 3rd Sunland Caravan having updated our vans as our lifestyle and travel requirements have changed. The whole team at Sunland always offer friendly and prompt service and we are only too happy to recommend their vans to anyone who is interested.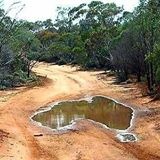 Ollie W.
We also love our Sunland which we have had 15 months. Outstanding support & service from the Sunland team who helped sort some small issues. We would also highly recommend the Sunland vans to any discerning prospective owners.

We Also Service All Makes & Models!
Complete Caravan Care
Top-Quality Caravan Maintenance And Repair By Our Experienced Team
All The Resources At Our High End Manufacturing Facility Are Available
Sunland Caravans Are A Leisure-Tec & Truma Approved Service Agent
Insurance Work
Trust Sunland to perform all Insurance claim work, to the standard required and within good time. All repairs and replacements done, no matter the shape or size!​
Warranty Work
Keep your caravan in optimal condition with regular check-ups. Our highly experienced team will perform the required warranty maintenance and more to keep your coverage in place.
Water Leaks
Don't let water become an issue. Bring your caravan to us at the first sign of trouble, let our experts find the source. We have years of caravan repair experience behind us.
All Electrical Work
From Air-Conditioning, Solar, wiring, battery and power management, vehicle hook up our top electrical team can do it all, they know caravans.
Gas & Safety Cert
We use only the best, expert caravan qualified inspectors and technicians. Catering for all makes and models, keeping you and your family safe.
Upholstery
Our dedicated, highly experienced upholsterer, working from the factory on our new vans, is also available for any repairs and customisations.
Email The Service Department:
We will get back to you right away!
Watch a recent interview with owners Geoff & Sharon.
Sunland Owner Roy Wyss catches up with these proud owners at the owners group gathering!
Call Or Contact Us Today!
(07) 5499 2250
Meet Our Awesome Team:
Experienced & Honest Caravan Experts...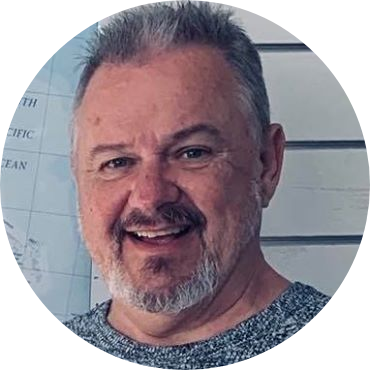 Roy Wyss.
Managing Director
Call Roy Direct:
0410 574 127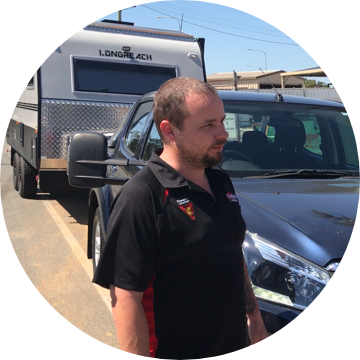 Tarrot Wyss.
General Manager
Call Tarrot Direct:
0418 825 966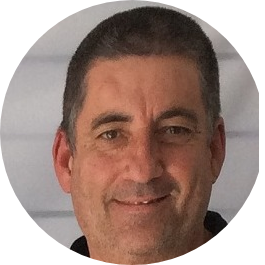 Michael R.
Operations Manager
Call Michael Direct:
0447 251 396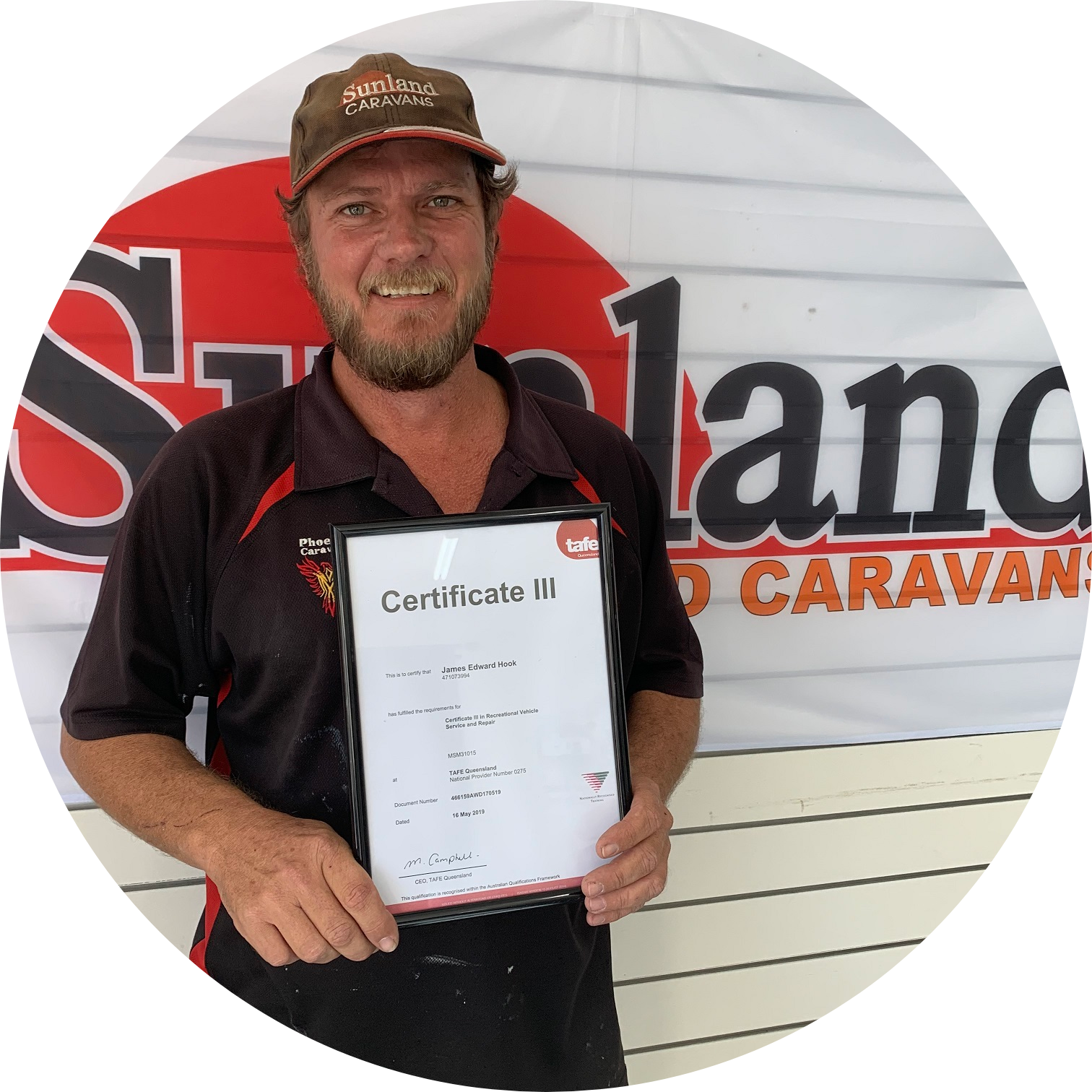 James H.
Service Manager
Call James Direct:
0447 866 054
Hear What Our Customers Are Saying About Us: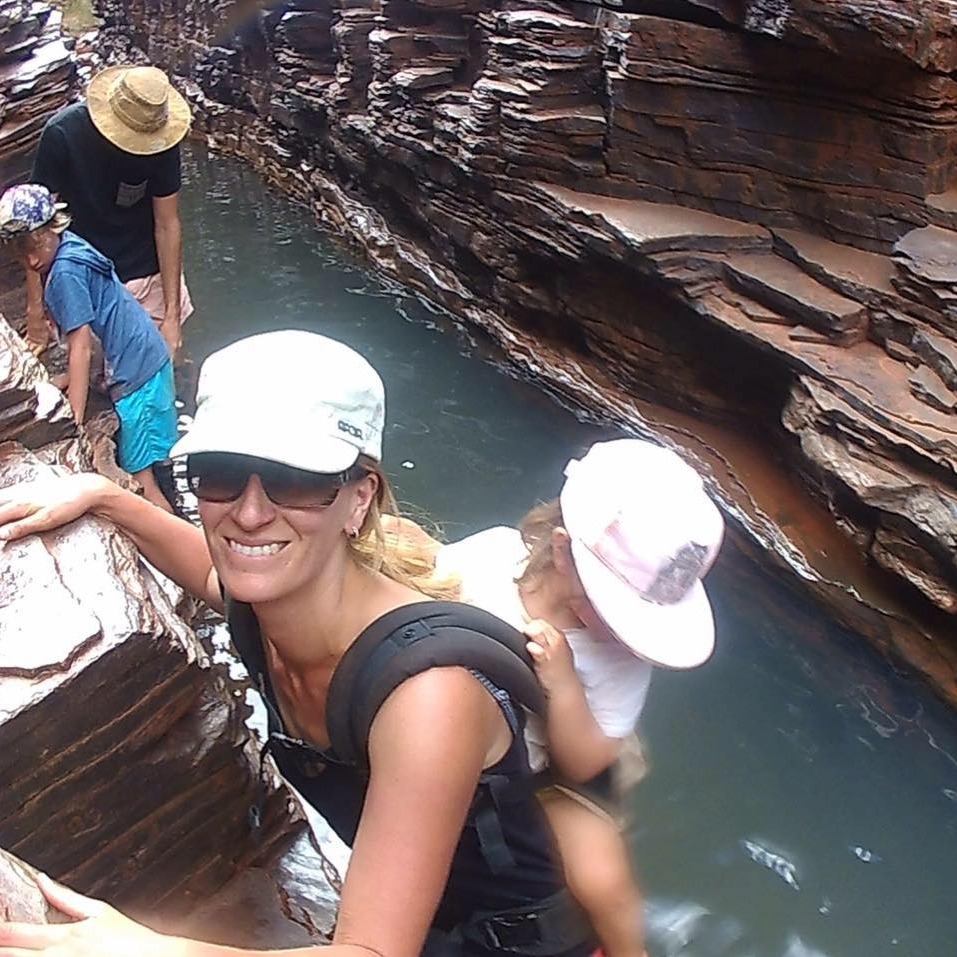 Aileen B.
We are so excited with our new custom designed caravan. Absolutely love it. Looking forward to many new adventures with the family!

Send Your Details Today!
We will get back to you promptly.
Frequently Asked Questions
What's the difference between your caravans versus others?
We get some variation of this question every week! It comes down to experience gained from over 20 years of manufacturing off road caravans.
We pride ourselves on being true innovators and industry leaders.
Who do you recommend for caravan insurance?
Sunland recommends CIL Insurance. Phone 1800 112 481 and quote
​#651 7595 to get a competitive quote.
​
How can you seriously offer a 20 year warranty on your chassis?
It is possible because we control the entire production process. From the chassis thru to the finished van 90%, including the chassis is manufactured on site. Our CNC machine and spray booth means we really do it all.
What's the correct tyre pressure for my caravan?
This can depend on several factors, the weight of your caravan, are you traveling off road or on the highway. If you are ever in doubt our team are just a phone call away!
​
Office Hours:
Monday 8:30AM-4:30PM
Tuesday 8:30AM-4:30PM
Wednesday 8:30AM-4:30PM
Thursday 8:30AM-4:30PM
Friday 8:30AM-4:30PM
Saturday By Appointment
Sunday Closed
Book A Factory Tour.




See How We Build 'Real'

Off Road Caravans!


Easy To Find, Parking &
Convenient Hours...
OR CALL US: (07) 5499 2250